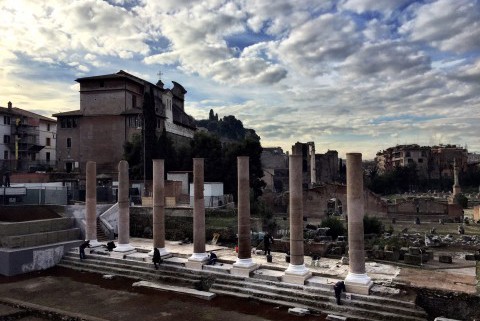 The recent event of the Vespasian Temple of the Peace anastylosis renewed the dialogue of the classical Romans heritages lovers:
More than relaxing conversations are real polemics, again, about, the old controversy of the archeological patrimony preservation. Seven columns of the western Portico of the Temple of Peace  soar again in the shining winter sky of Rome, lighted by thousands of Christmas decorations downtown streets. Not all the locals have noticed the news, but it has not gone unnoticed the "insiders" who splitted in two groups: the "puristic" and "Innovators" of the art restoration and conservation have divided the field: to keep in the same condition found buildings that time and man have deteriorated or partially destroyed, leaving scratch marks of history, or rebuild old buildings, especially of classical antiquity, through the reconstruction, with the original parts of the ancient structures?
Somebody actually believe that the operation that recourse to the concrete to pull up the columns that , otherwise,  without so massive insertions wouldn't stand, because of the extreme fragmentation of materials left (pink granite from Assuan, Egypt). That's why it had submitted a complaint to the High Council of Cultural Heritage. But two were the inspectorates involved and the project, strongly backed by former Mayor Marino, came to an end.
Emperor Vespasian had wanted this monument on the 74AD to celebrate the victory, and the reestablished harmony, after the Jewish war, inside it had carried precious relics from Jerusalem and not (including the famous Menorah), Domitian had finished, Septimius Severus had rearranged placing inside, one of the two libraries on the sides, the marble plan of the "Forma Urbis" (the marble city map, found in fragments), the Romans of the twenty-first century may now revise a part rebuilt, trying to imagine the ancient grandeur and this, ultimately, we believe, is certainly not a bad thing.
Our strolls among Ancient Rome are now enriched by a new, very interesting, attraction, so far, we just  imagined.
https://www.dearomatours.com/wp-content/uploads/Anastilosi.jpg
360
480
Dearoma
https://www.dearomatours.com/wp-content/uploads/2015/02/dearoma-logo-300x140.png
Dearoma
2015-12-21 18:41:05
2015-12-21 18:42:19
Templum Pacis anastylosis